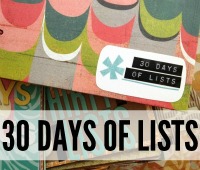 Hey!
I know that it's been a while since I've been a little bit since I've posted, but I started doing my very First 30 days of lists and thought that it would be nice to share the lists for each week with you. Today I'm sharing with you the lists from week 1 and I know I'm a bit behind, but I'm getting there.
My cover page. I thought that I could turn the cards from 30 days of lists into a mini project life album for the month of September, but we will see if that actually turns out. For the cards I used stickers from various scrapbook supply kits and washi tapes that I had accumulated. I also had a cute butterfly scrapbook paper that I had already cut into which I also decided to use. I also have been trying to limit my lists to just 6 items otherwise some lists would be out of control while others would have barely anything on them.
Day 1: What's new so far this year. I thought that throughout this album it would be nice to write all my answers, but after looking at other listers creativity I think I might choose a different route to make my lists next time.
Day 2: Projects I'm currently working on
Day 3: Things younger me would like about current me
Day 4: Favorite Time Wasters
Day 5:  Things I tend to worry about
Day 6: Rules to break
Day 7: Today I saw. This was the first day I was able to use my new Polaroid camera and I love it. I'm sorry that the picture did not translate well through my digital camera, but I've definitely been loving using an instant camera again.
See you with another one of these posts tomorrow, I hope!