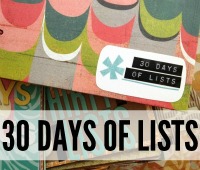 Hey!
I'm back with week 2 of 30 days of lists. As I said in my previous post I really hope to post the previous weeks list the following week, but I've gotten crazy busy in life. If you would like to check out my lists daily you can check them out on my instagram. I just started on there too! @greyskysaturday, which also means that this blog design maybe getting a make over in the future.
Day 8: My childhood chores
Day 9:Weird stuff that makes me cry
Day 10: Meaningful gifts given and received
Day 11: Things my family taught me
Day 12: Favorite things about this month

Day 13: Bad Habits

Day 14: Weekend Essentials
I hope to see you very soon with some amazing posts and hopefully some great news!