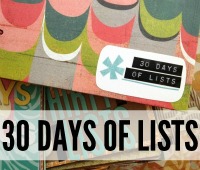 Hey!
I'm back with week 3 of the September edition of 30 days of lists. I can't believe that September is officially done today. I will have week 4 of 30 days of lists up on tomorrow along with a hopefully amazing blog surprise for you that I think you will enjoy. So now onto the lists!

Day 15 -In my junk drawer: I thought that this was another great way to use my Polaroid Instax camera. I really do love this camera. It's such a pity that the film is so expensive now!

Day 16- Things only _____ would now:  I chose to fill in the blank with one of my best friends in the world because we have special things that only he and a few select people who know 😉
Day 17-Favorite Things about my house: This one was a bit hard because in case you are not aware I still live with my parents (long story). These are just a few things that I love about my childhood home.
Day 18-I ask for help when: I've learned a lot in the last year about asking for help and I've learned to be less harsh on myself when I realize that I need help
Day 19-Qualities I admire in others: I could have a huge list of qualities that I admire in others but I lumped a bunch of them together.
Day 20-Comforting me this week: This week was a crazy week and everyday was filled with a bit of comfort.
Day 21-My food pyramid: Even though in the last year I've been working on getting healthier and that's reflected in this lists, but I still have my deadly food and things I've been trying to quit.
Hopefully I will see you tomorrow with another amazing post and the news I've been promising!