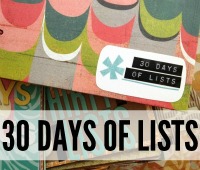 Hey!
I'm back with Week four and the final installment in this month's 30 Days of Lists. I really enjoyed participating in this journalling challenge and I hope that i have a chance to do this again. Please find the rest of my lists below including day 30, which is exclusively posted here.
Day 22-Recent Dreams: Dreams that I've had lately some of which are real and some of which are just sleep dreams.
Day 23-Things people don't know about me because they don't bother to ask: I tend to keep a few secrets from people who know me in real life.
Day 24-How to have a better day: After this past month I definitely know a few tricks of the trade on how to make a better day for myself and perhaps they will work for you too.
Day 25-My family's quirks: Honestly who has a family who isn't quirky
Day 26-Rules for being my friend: I never thought that I would have rules for being my friend but apparently there are and often times it isn't that difficult
Day 27-Favorite classes/workshops: I have a few classes that I have really liked but this reminded me that I should consider taking more classes for me.
Day 28- In my fridge: Usually the fridge at my house is jammed pack with things, so I just picked a few things to put down.
Day 29- Next Month's plans: I have so many plans for this month and i hope that I can accomplish everything!
Day 30- Today I want to remember:  This journal prompt was really special to me especially after what has been happening lately. Don't forget to stay tuned to this blog all this month for more Scaretober posts! See you soon!