Hey!
Today I'm linking up with The Farmer's Wife and September Farm for their Oh, hey Friday post!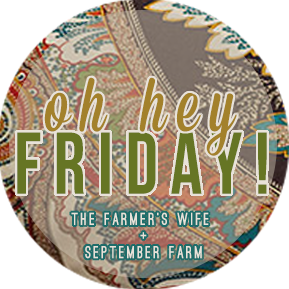 Today not only did I go out for Black Friday shopping, but I managed to also get some online shopping done as well. Although I was not able to get to all the sales (impatient personality), I still picked out some good things.
I was disappointed to learn that 2 Sephora stores where I live are already out of the birthday gift for the year, meaning I might not get mine this year 🙁
I made a special trip to the library, so I could join in with the Paper & Glam book club reading this month Miracle on 34th Street. I had to get a new library card because I couldn't find my old one which made a bit sad since I had my original one since I was 8 years old.
I was excited to see my nephew last night for Thanksgiving since I hadn't seen him in a while. Talk about tsumtsums and Star Wars ensued.
Here are some links to some great reads below:
Sorry that this post is up so late, but Black Friday shopping got to me. I hope to see you soon in another post.