Hey!
Today I'm linking up with The Farmer's Wife and September Farm for their Oh, hey Friday post.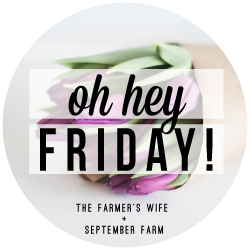 I'm sorry that it's been a while since I have done one of these, but sometimes my day job gets overwhelming and something has got to give. Here are a few things as of lately.
I've been binge watching Grey's Anatomy on Netflix and as much as I've been enjoying it I'm considering stopping at season 6 simply because George dies, but we'll see…
I also binge watched Fuller House when it came out. It was cool to see Uncle Jesse and the gang again, but meh!
I finally joined the world of hydroflask users at the end of March when my mom bought me a 20oz. It's been great. I even took it on my trip to the Bay Area with me!
When I got back from my work trip I found out that my favorite morning radio duo is talking a break until the end of the year and as depressing as it is to find a new radio stations it has definitely been interesting.
This quote is amazing. I got it from Alex Moyer's blog
The sun is perfect and you woke this morning. You have enough language in your mouth to be understood. You have a name, and someone wants to call it. Five fingers on your hand and someone wants to hold it. If we just start there, every beautiful thing that has and will ever exist is possible. If we start there, everything, for a moment, is right in the world.
– Warsan Shire
Below are a few links that I think that you should check out this week:(or at least I think that they are pretty awesome!)
Hold on by Walk off the earth
Work by Fifth Harmony
Man exercised like a woman from Shape magazine
Pinky and the Brain Theory since Anamaniacs is now on Netflix
I'm planning on seeing you in another post soon….