Hey!
Today I'm linking up with The Farmer's Wife and September Farm for their Oh, hey Friday post.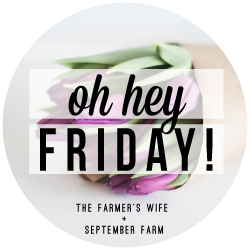 I'm just gonna stop apologizing for not being around and promise to try better. It is getting better with blogging, but it's not perfect yet. Here are some thoughts from this week
I've been loving Justin Timberlake's new song that he dropped earlier this week. It's just so catchy.
 I'm super sad that a few of my favorite shows from this season are being cancelled. (RIP CSI:Cyber and Muppets) If you have any recommendations for new shows to watch please let me know.
I've been stepping up my social media game a bit recently and companies are starting to take notice. Did you see my post on Warby Parker earlier this week?
I'm a bit sad that my Toms ballet flats that I bought in the Fall are already showing signs of wear. Luckily though Ebates is having a birthday celebration , so I might just pick up a pair of new shoes.
My no-buy for planner things is going pretty well. I'm hoping that I will be able to keep up through June also.
Below are a few links that I think that you should check out this week:(or at least I think that they are pretty awesome!)
This STI/herpes TED talk is amazing!
Apparently staying in is the new going out
"When young people eager to start their own lives and careers ask me for advice I smile and always say: 'Passion and persistence are what matter. Dreams are achievable and you can make your fantasy come true, but there are no shortcuts. Nothing happens without hard work.'" – Diane Von Furstenberg
I'm planning on seeing you in another post soon….