Hey!
Today I'm linking up with The Farmer's Wife and September Farm for their Oh, hey Friday post.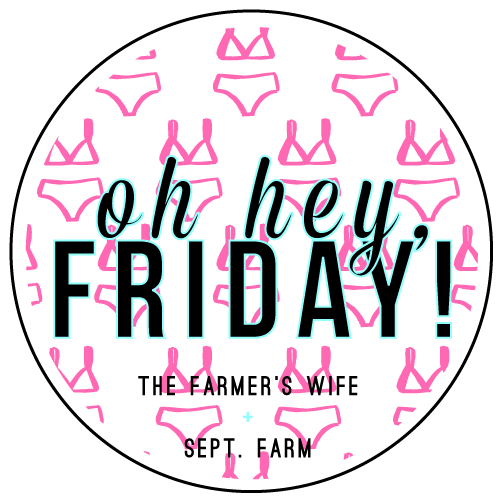 I'm really working hard on getting into a regular schedule, but my body has been driving me crazy and just no cooperating. Hopefully, this weekend I'll be able to write a few posts and get ahead. Until then here are some thoughts from this week
I've become super obsessed with roasted veggies. My mom and I have done them three times this week already. We tried asparagus, squash, Brussel sprouts, cauliflower and sweet potato.
I'm super jealous of all the people going to Japan lately. I've been dying to go back.
I really wish that it would stop raining all the time here, I need a good sunny day!
The Boy and I tried the new ride at the Fair last weekend. Post coming next week I think and it was pretty crazy. He had a video posted, but it doesn't even really show how scary it was.
I'm kind of excited about the Harry Potter sticker set coming out on Sunday.
Below are a few links that I think that you should check out this week:(or at least I think that they are pretty awesome!)
Lauren Conrad's ab challenge
My review of the live action Jungle Book
I'm planning on seeing you in another post soon. How's your week been?