I'm back again with yet another book review. I know that I am unintentionally turning this into a book blog, but at least you have consistent posts from me for a little bit right?!? This posts is going to be mini reviews of all the books that I read during the Creating & Co TBR Throwdown because I nearly almost finished all the books that I had planned to read that week. WHAT!?! Yes, I know pretty amazing and that includes a few that weren't on my TBR for that week!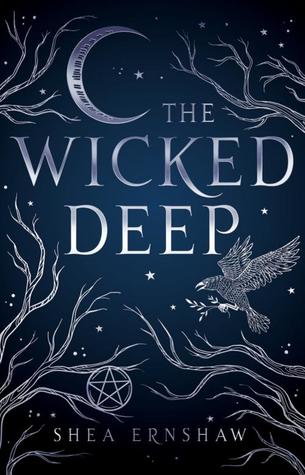 I started the week by finally getting around to reading The Wicked Deep by Shea Ernshaw, this was actually the Creating & Co Book Club pick in April or something. I know I'm a little behind, I picked up the book when we were suppose to read it but never actually got into it. I was finally able to get myself to read at least 50 pages and after that I was hooked! This was definitely an atmospheric book once you got into it. Though I will admit that parts of it did read a bit like Twilight.
Here's a quick synopsis of the book: Penny Talbot has lived on an island near the town of Sparrow for her whole life and grew up with the legend of the Swan Sisters. The whole town prepares for the summer when the Swan Sisters return to life and wander around town and bad things happen. This summer though Bo Carter, a stranger comes to town and is determined to solve the mystery of his brother's death. Soon, it comes down to Penny and Bo having to choose between saving each other or saving only one of them.
The next book I read that week was The Old Man and the Sea by Ernest Hemingway. I had made it my goal for August to read a classic and this seemed like a perfect place to start. Let's be really honest there are probably a million books I should read and I'm only slowly working my way through that list!
While this book weighs in at only 127 pages, I found myself struggling through the heaviness of the book. It's not a fast read by any means, any author of this caliber doesn't waste time on useless words. You can tell when you read it that every word is weighed and carefully chosen to give just the right effect. I cheered for the Old Man as he fought the fish so valiantly and was a little ticked off that none of the other townspeople came to look for him. Uhh…did I just spoil the book? Possibly, but you should read it anyway if you haven't read it. At least trudge through it so you can appreciate the work of Hemingway.
The next book I finished this week was The Little Prince by Antoine De Saint- Exupery. After watching
the Netflix I knew that I would definitely have to read the book as to better understand the story. Like many book to movie adaptations I wasn't surprised that the book was different from the movie I was surprised at how much the book and movie differed. I would actually have to say that I liked the Netflix special a little bit better because it had so many more quotable moments that the book. I'm still grateful that I read the book and am definitely keeping it in my collection.Perhaps I need to read a few more of Antoine De Saint-Exupery's book to better understand this one.
I did start another book at the end of the week, but since I didn't finish I think that will have to go in a separate review by itself. Also so many more reviews and things coming here soon!
Let me know if you have read any of these books and what you thought. If you have any recommendations for books I should read this year, let me know 🙂 I'll also be participating in the Creating & Co RIP Readathon in October, so they'll be a ton more reviews coming soon! I'll see you soon with another post.