Hey!
I'm back with yet another post for Scaretober. I apologize that there aren't as many posts this year, but I am still determined to get up as many posts as I can for you. I just wish that I could be watching more scary movies and doing more reviews for you, but this is what it is.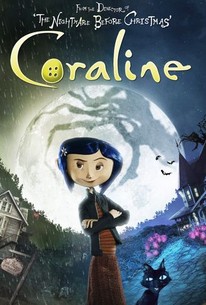 Today I'm reviewing Coraline the movie. Not to give anything away, but there will also be a review on Coraline the book by Neil Gaiman. I found the movie fascinating and weird. It was done in a claymation style similar to that of Nightmare Before Christmas, Corpse Bride, and other such movies.
If you haven't seen the movie, the basic storyline of the movie is that Coraline Jones recently moves from Michigan to a new town and since she has no one to play with she has a very active imagination. In addition to that she discovers a door in her house that appears to go nowhere during the day, but at night appears to go to an alternate universe in which she is treated to everything she wants and everything she hopes for in her life. Soon, Coraline is visiting the universe regularly until one day the Other Mother demands that she stay for good and Coraline decides that she doesn't want to stay and makes a deal with the Other Mother in order to leave.
If you haven't watched Coraline I highly recommend it, I found it a fascinating movie and the animation is well done. Matt had never seen the movie before and he really enjoyed it. He is also a fan of Neil Gaiman in general, but had not read Coraline. Stay tuned for more posts during Scaretober and hopefully they will be equally fun. See you soon.