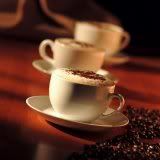 I meant to do this so much sooner, but I suppose now would work too.  I won't call myself a coffee connoisseur by any means. I can't even drink my coffee black, but load mine up with flavor shots, milk, and whipped cream and I'm your girl. So I've drunken all the holiday drinks and here's what you should be drinking for the holidays in my personal opinion.
You should always support your local coffee spot because the money stays in your area, but if you have to venture to the corporate machines such as Starbucks or Coffee Bean & Tea Leaf here 's a few choice drink choices. Within in the last year or so, I've gotten addicted to Chai like no other and when given the chance will drink it all year around I'm a little biased.
1. Coffee Bean & Tea Leaf's Winter Dream Latte
Definite a recommend if you are addicted to Chai you will love it. It's the perfect blending of Chai with Rooibos to keep your throat feeling healthy all winter long.
2. Starbucks Peppermint Mocha
This was the drink that made me fall in love with Starbucks. I'm a sucker for Peppermint except in ice cream. Peppermint ice cream is not good, but that's another story. When you drink this you are nearly swept away with all the Pepperminty goodness.
3. Starbucks White Peppermint Mocha
Since, I'm not a fan of white chocolate I didn't venture to try this drink until this season. Now, I'm getting swept away by the White Mocha fusing with the Peppermint. Apparently, I'm not alone in this infatuation because one of my Starbucks told me they ran out of Peppermint.
4. Coffee Bean & Tea Leaf Red Velvet Cocoa
I've declared that Coffee Bean & Tea Leaf has been killing it on the original drinks department and Starbucks has not even begun to step up to the plate. I'm slightly biased up still. When you get this drink the smell make you think of Red Velvet cupcakes and when you think that might be all that it's worth, you begin to sip and if it were possible to liquify the perfect red velvet cupcake you'd get this drink. I swear that's what it taste like, but then again my sister-in-law wasn't an incredible fan of this drink and she loves red velvet cupcakes.
5. Coffee Bean & Tea Leaf Gingerbread Latte
I'm perfectly aware that Starbucks has had this on their menu for a while, but their drink does not taste like this. In my opinion of the few gingerbread cookies I have eaten. This is what this drink taste like. Exactly to a perfect point.
I hope this list helps you figure out what you need to get at the major coffeeshops and what you should be passing on. Feel free to leave me your thoughts and opinions of what I may have gotten wrong.