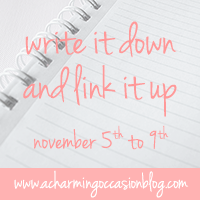 I thought I had mentioned this to you already, but I guess I hadn't for the month of November I will be participating in BLOGVEMBER! or at least trying to. In case you don't already know what BLOGVEMBER is it's simply a month where bloggers blog every day, this means that you will most likely be getting a ton of posts from me this month.
I know that I already missed a couple of days, but want to make it up to you so for the next couple of days you might get 2 posts a day and isn't that exciting! Today I'm linking up with Joelle from Something Charming for her Write Down and Link it up post. I found about this through Kristin at Echo Cafe. If you are not already subscribed to these ladies you definitely should check them out. So here are the answer to her questions:

My name is Jamie
I blog at GreySkySaturday
I live in Honolulu, Hawaii
I love: blogging, shoes, dirty chais,photography, blue, red and much more
My favorite quote is: "Promise me you'll always remember: You're braver than you believe, and stronger than you seem, and smarter than you think you are "-Christopher Robin from the Adventures of Winnie the Pooh
Feel free to head over to Joelle's blog to check out the rest of the linkups and link up since it runs all week long! I really dislike my handwriting, but I love seeing other people's handwriting and admiring their penmanship. See you in my next post soon!